A patent is an intellectual property that provides the legal right to the inventors. Here, in iLovePhD you can find out everything you need to know to file an Indian patent. The importance of a patent and the procedure for filing an Indian patent is explained in a detailed way.
What is a Patent?
A patent is a constitutional right granted by the government to the inventor for his/her invention.
Invention should be a novel product or process involving an inventive step and applicable for industrial application.
Invention should be technically advanced as compared to the existing technology and economically significant.
Invention must not be claimed or published in India or elsewhere.
It is only a territorial right. Patent is not an absolute right. It is subject to few conditions:

Government use or on behalf of government
Research purpose
Teaching purpose
Experimental purpose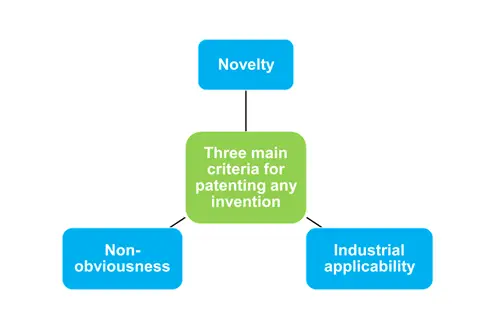 Significance of Patents
A treasure house of scientific novel findings
Avoids replication and duplication
Paves way for further new inventions
Identifies state-of –art technologies
What Does a Patent Do?
No one can manufacture the product without the inventor's approval
Inventors would be paid royalties
Inventors can block competitors
Inventors can protect the invention for 20 years
After 20 years, invention goes to public domain
What Can Be Patented?
Any new scientific invention or product or apparatus or machinery or process or computer hardware and software.
Any newsubstance either living or non-living product; any composition of matter.
Any novel pharmaceutical product
Any novel chemical processes or products other than biological processes.
What Cannot be Patented?
Inventions falling within the scope of Section (3) of Patents Act, 1970.
Inventions falling within the scope of Section (1) of Sub-section 20 of Atomic Energy Act, 1962.
For Example Inventions related to radio-active compounds namely Uranium, Beryllium, Thorium, Plutonium, Radium, Graphite, Lithium, and more as notified by Central Govt. from time to time.
Also Read
Section (3) of Patents Act, 1970
3(a): Frivolous or anything obviously contrary to well-established natural laws.
3(b): Contrary public order or morality serious prejudice to human, animal or plant life or health or to the environment.
3(c): The mere discovery of a scientific principle or the formulation of an abstract theory or discovery of any living thing or non-living substances occurring in nature.
3(d): The mere discovery of a new form of a known substance that does not result in the enhancement of the known efficacy of that substance.
3(e): A substance obtained by a mere admixture resulting only in the aggregation of the properties of the components thereof or a process for producing such substances.
3(f): The mere arrangement or re-arrangement or duplication of known devices each functioning independently of one another in a known way.
3(g): A method of agriculture or horticulture.
3(h): Any process for the medicinal, surgical, curative, prophylactic, diagnostic, therapeutic, or other treatment of animals to render them free of disease or to increase their economic value or that of their products.
3(i):  Plants & animals in whole or any part thereof other than microorganisms but including seeds, varieties, and species and essentially biological processes for the production or propagation of plants and animals.
3(j): A mathematical or business method or a computer program per se or algorithms.
3(k): A literary, dramatic, musical, or artistic work or any other aesthetic creation.
3(l): mere scheme or rule or method of performing mental act or method of playing the game.
3(m): Topography of integrated circuits.
3(n): An invention which in effect is traditional knowledge or which is an aggregation or duplication of known properties of traditionally known components or components.
Steps Involved in Filing a Patent Application in India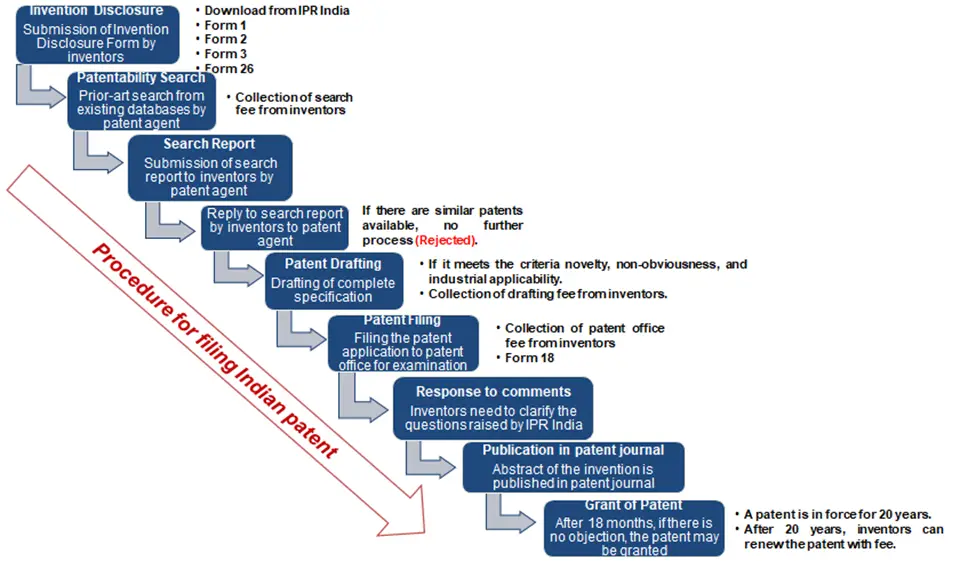 Details To Be Furnished in Invention Disclosure Form
Title of the invention
Contact information of inventors
Technical information

Background of the invention

Drawbacks in prior art & efforts to overcome drawbacks

Detailed description of the invention with drawings

Industrial application of the invention

Funding support for the invention
Public disclosure
Market evaluation (Commercialization value of invention)
Information for design patent
Information for trademark registration
Information for copyright filing
Signature of the inventors
Details To Be Furnished in Complete Specification (Form 2)
Title of the invention
Contact information of inventors
Technical information

Background of the invention

Objectives of the invention

Detailed description of the invention with drawings

Definition for the technical terminologies used

Claims

Most important part in patent

Includes dependent and independent claims

Abstract of the invention

Signature of the inventors
List of Documents Required for Filing a Patent Application in India
Cover letter
Application for grant of patent as in Form 1  
Complete/Provisional specification as in Form 2
Statement and undertaking as in Form 3
Declaration of Inventorship in Form 5
Request for examination: Form 18
Power of attorney in Form 26
Statutory fees (cheque / DD).
The application can be filed either individually or jointly as per IP norms (Section 6 &134)
Hope this article gave you a clear vision on patent filing.